Brazilian rancher Carmen Perez is known as the spokesperson for animal welfare in Brazil. Since the age of 22, she has been raising calves on the Orvalho das Flores farm in Barra do Garças, Mato Grosso. For more than 13 years, she has dedicated her career to the research and dissemination of good practices in animal husbandry, which she believes will lead to new behavior and enhance animal welfare worldwide.
When she took over the property, which belonged to her grandfather, she found out a breeding system to which she didn't agree. From then on, the change process she led not only transformed her farm but reached the world. Today, at the age of 43, the Brazilian rancher is acknowledged for her good practices in the field, focusing on farm animals' well-being. All the calves that are born on her farm—around 1,500 per season—are massaged, nursed, and raised by trained workers. Since then, the quality of the herd, 100% for commercial purposes, has changed dramatically.
In addition to fieldwork, Perez is involved with the Grupo Etco led by Professor Mateus Paranhos, from UNESP University, in Jaboticabal, state of São Paulo. For her, it all begins with education. "Animal welfare starts with people. This learning has no end. We work to bring animals closer to breeders, to explain how animals behave, how each management works, at each stage of the breeding process," she describes her activities.
Change of scenery
Beef is the fifth most exported product in Brazil. Between 2000 and 2021, exports grew by 1,400% in value, reaching US$ 8.5 billion in 2021. Since 2000, Brazil has advanced a lot in health issues, increasing productivity through improved management, genetics, and nutritional quality for the herds. This progress coincides with Carmen Perez's professional trajectory. "Being a voice that amplifies good production practices and improves the lives of people and especially animals—this is the greatest purpose in my life," she says.
Perez proudly celebrates the innovations in cattle raising in Brazil, focusing on sustainability. "Brazilian beef is unique in its production system since 95% of the animals are raised on grassland, which already makes a big difference due to carbon sequestration. This fact makes for two pillars of animal well-being: good nutrition and care for the environment," she explains.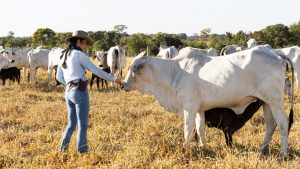 Women in the field
The farmer describes the beginning of her career as a challenging period, with a lot of effort in a particularly male environment. "The challenge, I think, is for everyone. But because a very masculine world still prevails, women have to work harder to conquer their spaces."
In this sense, the Women's Agribusiness Nucleus (NFA) is a crucial piece. Created in 2010 and chaired by Carmen between 2017 and 2018, the group brings together producers and ranchers and has promotional and educational purposes. "It is a very positive and real example from entrepreneurs with similar stories of determination and perseverance. I think it is incredibly motivating for the new generations," Perez explains.
Despite traveling the world studying and promoting animal welfare, her true passion is living in the countryside and being in touch with nature at her farm. "When I come back after some time away, the first thing I like to do is go around the whole farm, see what is happening, the animals, the pastures, and feel what the farm demands. Only after that I can sit in my office and analyze the figures," she concludes.