On December 7, the Brazilian Confederation of Agriculture and Livestock (CNA) officially presented the position of the Brazilian agricultural sector at the 25th United Nations Conference on Climate Change (COP) in Madrid, Spain. The document was built in conjunction with various agricultural entities and presented to the President of Brazilian Senate, Davi Alcolumbre, to the Minister of Environment, Ricardo Salles, head of Brazil's COP25 delegation, and to the chief negotiator of Brazil at COP25 and director of the Environment Department of the Brazilian Ministry of Foreign Affairs, Leonardo Athayde.
"The document conveys to Brazilian and international negotiators, to the UN and to buyers of Brazilian agribusiness, the sector's position and expectations regarding the climate summit," said the president of CNA's National Commission for the Environment and president of the Federation of Agriculture and Livestock of the Amazonas State (FAEA), Muni Lourenço.
Minister Ricardo Salles and President Muni Lourenço show the position paper
In the document, CNA reiterates the commitment of Brazilian farmers and ranchers to reduce greenhouse gas emissions through the adoption of low carbon technologies and the best agricultural practices. CNA also calls on the international community to recognize the efforts already made by Brazilian producers as anticipated mitigation actions.
Conservation of native vegetation in private areas in Brazil reaches 218 million hectares. It is an area equivalent to the surface of 10 European countries, according to data from the Rural Environmental Registry (CAR).
"Brazilian farmers and ranchers increasingly adopt technologies to improve profitability with environmental sustainability, showing that Brazil was able to build a model of rural growth vertically, saving area and respecting the environment," said Lourenço.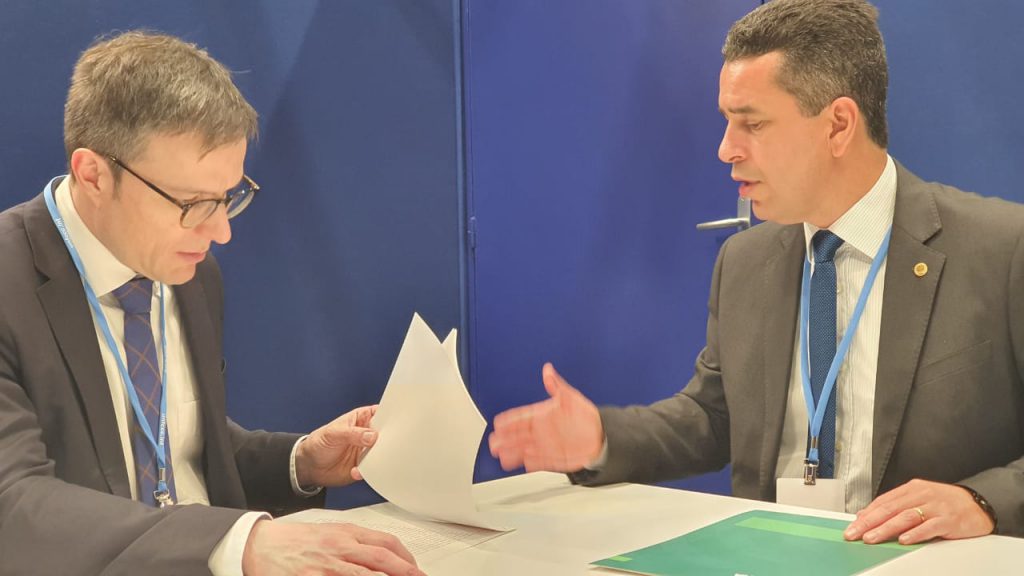 Leonardo Athayde and Muni Lourenço discuss the Position Paper
Another item of the document raises the need for countries that are considered to be the ones that emit the most greenhouse gases to finance, through cooperation projects, the transfer of technologies and adaptation actions to other countries, through measures such as payment for environmental services. This theme is provided for in Article 6.4 of the Paris Agreement.
In addition, the document highlights that the private sector is committed to agricultural transformation through projects that allow incorporating technologies and actions for more resilient production. Another commitment made by the agricultural sector is to increase the generation of bio-energy and bio-fuels from sugarcane biomass to replace the fossil fuel matrix.
"Since the conclusion of the Paris Agreement, total emissions have dropped by 240 million tonnes of carbon dioxide. In addition, the National Bio-fuels Policy (Renovabio) proposes to reduce GHGs by another 10% in the transport matrix over the next 10 years", emphasizes the position.
The COP25 in Madrid happens from December 2 to 13. This year's meetings discusses the countries' obligations to comply with the Paris Agreement, which is expected to come into force in 2020. The position of the agricultural sector is available for consultation here.