The Brazilian agribusiness has closed this past year with another positive balance in its trade balance. In December 2022, the value of goods shipped abroad reached US$ 11.3, a 15.4% increase when compared to the same period in 2021. This positive outcome resulted in a surplus of US$ 9.9 billion.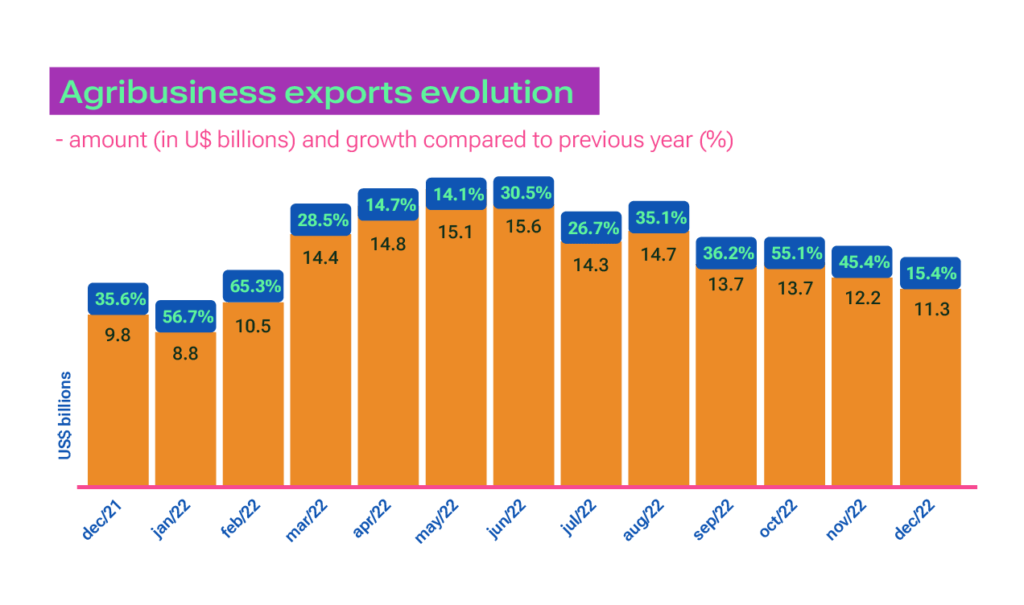 In December, the leading product in our agribusiness export line was corn, which made up 16.4% of total exports and generated US$ 1.8 billion in revenue, a significant increase of 146% compared to the same period in 2021. The second most exported product was soybean, which saw a decline of 8.3% when compared to December 2021 and brought in US$ 1.2 billion. The other remarkable exports in the agribusiness line are raw sugarcane, fresh beef, and fresh chicken meat.
Brazil's main export destination in December 2022 was China, with a share of 24.2%, followed by the European Union (16.7%) and the United States (7.1%). Other countries also had remarkable shares: Japan (3.4%), India (3.2%), South Korea (2.7%), Iran (2.7%), Saudi Arabia (2.3%), Vietnam (2.2%), and Russia (2.1%).
Some destination countries showed a significant performance in December 2022 compared to December 2021. Among these, the highlights are India (+166.9%), driven by soybean oil exports (an increase of US$ 189.2 million); and Iran (+78.6%), driven by corn sales (an increase of US$ 114.1 million).
Trade balance highlight: fresh chicken meat
Brazil is the world's largest exporter of fresh chicken meat, accounting for about 14.3% of production and 33.9% of world exports. In 2022, Brazilian exports were approximately 4.6 million tons, an increase of 9.5% compared to the previous year. It is noteworthy that this is the largest volume in the analyzed period (2012-2022). The second main world exporter is the United States, with exports estimated at 3.3 million tons in 2022.
In 2022, Brazil's fresh chicken meat exports reached an accumulated worth of US$ 9.1 billion, the best result in the period analyzed (2012-2022). This performance is 27.0% higher than that seen in the same period in 2021. In 2022, the three main destination countries for exports of the product were China (14.7% of the total); the United Arab Emirates (10.4%); and Japan (10.3%).
Concerning the commodity's international prices, according to the World Bank, it was seen that its peak, considering the period since the beginning of the Covid-19 pandemic in February 2020, occurred in May 2022, when the prices of fresh chicken meat reached US$ 3.70/kg. In 2022, accumulated until December, the average price per kg of fresh chicken meat is US$ 3.35, an increase of 48.5% concerning the average price in the same period of 2021. Considering only December 2022, a kilogram of fresh chicken meat was sold for US$ 3.31 (+20.6% concerning the price in December 2021).