The Brazilian agribusiness trade balance data in June show that the worth of goods traded abroad reached US$ 15.3 billion, a 1.8% decrease compared to the same period in 2022. Considering all factors, by the month's end, agriculture and livestock products had a surplus of US$ 10.5 billion.
In June, the leading product in our agribusiness export line was soybean, which represented 44.9% of total exports and yielded US$ 6.9 billion in revenue, an increase of 9.3% compared to the same period in 2022. The second most exported product was raw sugarcane, which increased 46.3% compared to June 2022 and yielded US$ 1.1 billion. The other notable exports in the Brazilian agribusiness line were soybean bran, fresh beef, and fresh chicken meat.
Brazil main export destination in June 2023 was China, with a share of 39.6%, followed by the European Union (12.8%) and the United States (5.3%). Other countries also had remarkable shares: Argentina (4.4%), Mexico (2.5%), Turkey (2.1%), Indonesia (2.1%), India (2.1%), Japan (1.9%) and Thailand (1.8%). Some destination countries showed a significant performance in June 2023 compared to June 2022. Among these countries, the highlights are Argentina (+237%), driven by soybean exports (an increase of US$ 525.9 million); and Indonesia (+74.1%), driven by soybean bran exports (an increase of US$ 76.5 million).
Trade balance highlight: raw sugarcane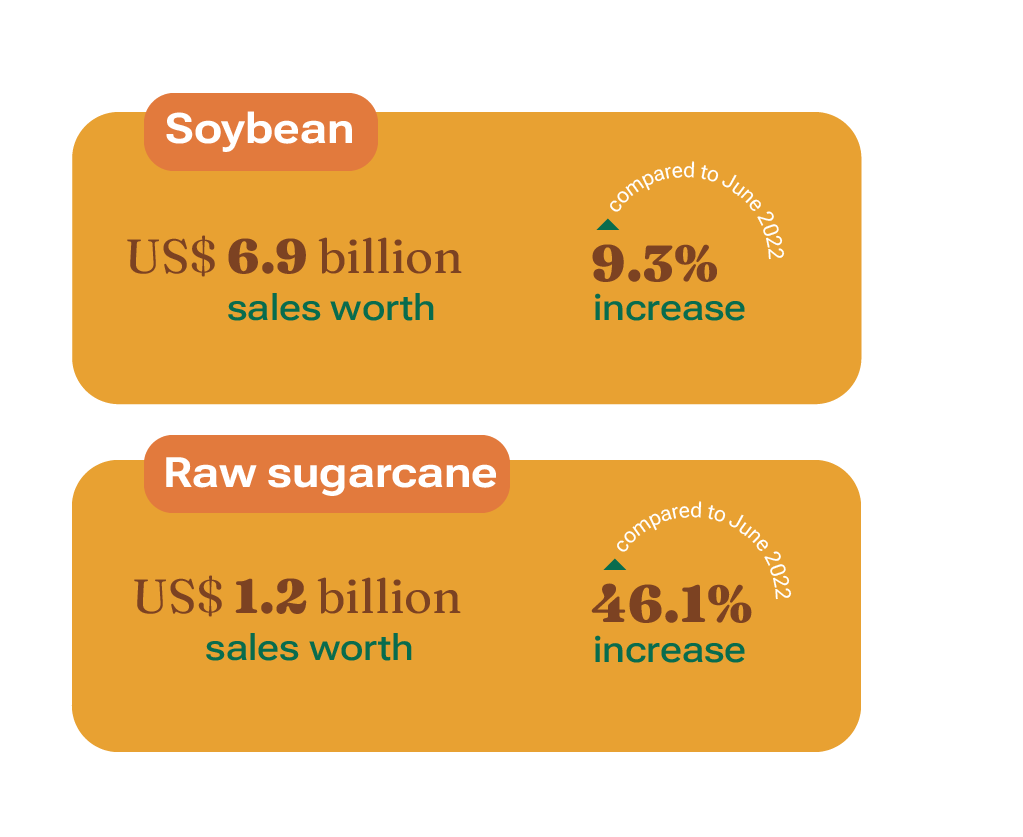 Estimates from the National Supply Company (CONAB) reveal that the sugarcane harvest for 2022-2023 reached 610.1 million tons. For the 2023-2024 harvest, production is expected to increase by 4.4%, totaling 637.1 million tons. The main producing region in the country is the Southeast, with São Paulo being a prominent state. São Paulo production accounts for 50% of the country's total. Brazilian production plays a significant role in the global supply, responsible for almost 40% of the world production, according to FAO estimates in 2021. As a result, Brazil is the world's leading sugarcane producer.
The relevance of Brazil increases when considering the global exports of raw sugar. In terms of quantity, in 2021, Brazil accounted for over 70% of the world's exports, totaling 25.7 million tons. In 2022, raw sugar exports reached 26.4 million tons, showing a growth of 2.7% compared to the previous year. In terms of worth, the exports amounted to approximately US$ 9.5 billion, representing the best performance in the analyzed period (2013-2022).
In the year-to-date until June 2023, raw sugar exports reached US$ 4.5 billion, increasing 36.3% compared to the same period in 2022. The main destination countries for raw sugarcane exports are Algeria (8.9% of the total), followed by Saudi Arabia (8.5%) and Nigeria (8.4%).