This July 17, representatives of the Ministries of Agriculture of the five BRICS nations (Brazil, Russia, India, China and South Africa) visited the headquarters of Brazilian Farmers and met with the president of the Confederation of Agriculture and Livestock of Brazil (CNA), João Martins.
The meeting is part of the preparatory agenda for the 9th Meeting of Ministers of Agriculture of the BRICS, which will take place September 25 in Bonito, in the Brazilian State of Mato Grosso do Sul-MS.
The meeting was attended by Secretary of International Relations, Orlando Leite Ribeiro, and Secretary of Innovation, Rural Development and Irrigation, Fernando Camargo. Both are from the Brazilian Ministry of Agriculture. Representatives from the Brazilian Ministry of Foreign Affairs were present as well.
For the president of CNA, the meeting was an excellent opportunity to bring BRICS countries closer to Brazil's farmers. "We work hard in Brazil so that Brazilian farmers have the opportunity to export their products," said Mr. Martins at the opening of the meeting.
The participants learned about the structure of the CNA/Senar System and received information about Brazil's import and export markets and agricultural goods. In 2018, Brazil was responsible for 7.4% of world trade of agricultural products.
"We will continue to grow and we need to open and expand markets around the world. Of the four countries that have been here today, China and Russia are already big consumers of our products. This visit shows the importance of our System for agriculture," said the director of International Relations of CNA, Gedeão Pereira.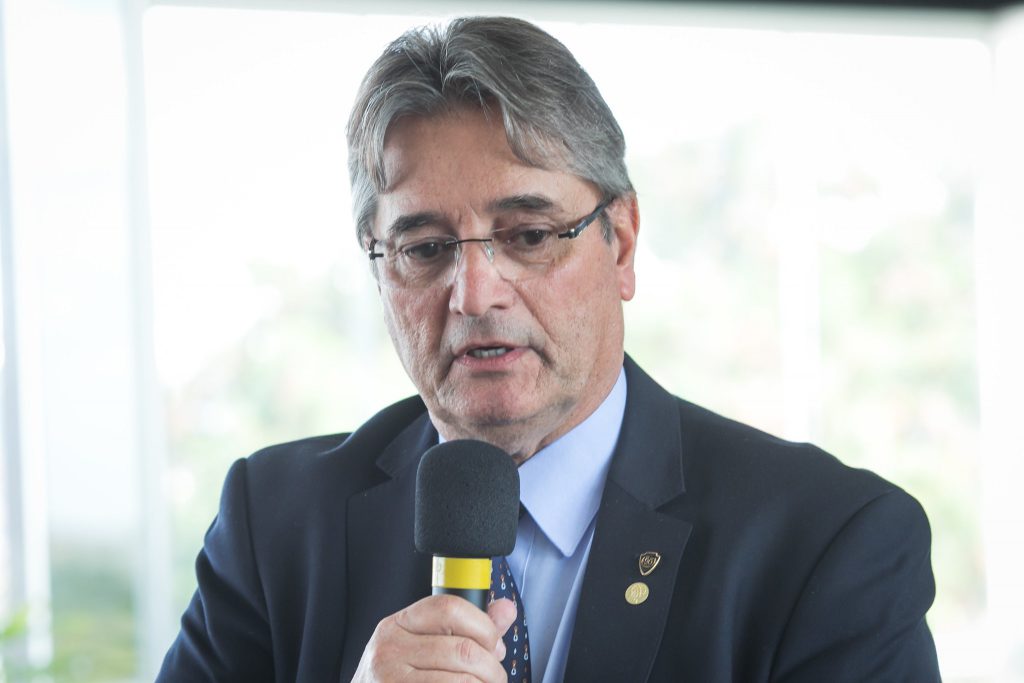 According to CNA's Head of International Relations, Lígia Dutra, the five countries in the bloc represent 41% of the world's population and 20% of all world agricultural exports.
Evolution
The delegation also attended a lecture on the evolution of the Brazilian production system and the main technologies that led the country to increase its production by 400% in the last four decades.
"The fundamental role of Brazilian farmers is to show how agriculture is carried out here. Also, to bring these large buyers of our products closer and to show them our numbers. We are all about sustainability and rural technical training," said Lígia Dutra.
For the Secretary of Commerce and International Relations of the Ministry of Agriculture, Orlando Ribeiro, the BRICS bring together heterogeneous countries in agriculture, which are importers and exporters of food.
"The common denominator is the use of science and innovation, which is something we deal with here too. CNA is the home of Brazilian agribusiness and it is important that they know the support structure that our farmers have," he said.
The event was also attended by the vice presidents of the CNA, José Mário Schreiner and Mário Borba, and Daniel Carrara, General Director of the National Rural Apprenticeship Service (Senar).