Brazil is the third-largest beer producer in the world, behind only the USA and China. Despite this, the country imports almost 100% of the hops used in the production of the drink. But this scenario is changing, as more Brazilian farmers are investing in better-adapted species and the development of national ones.
One of the first to venture into hop cultivation in the country was Alexander Creuz. After almost 20 years working in the financial market, Alexander was determined to make a radical life change. He enrolled himself in the first agribusiness technician class from the National Rural Learning Service (SENAR) at the São José hub, in Santa Catarina, Southern Brazil.
"I've always liked the countryside, ever since childhood, but by the ways of life, I've never had the opportunity to make that change," says him. His dream future began to take shape in 2015 when he had to present a final paper for the agribusiness technician course. "I saw on a TV report that 100% of the hops used here were imported and I thought: 'Brazil has different microclimates, it makes no sense for it not to adapt here.' As I had to present a paper, I decided to study hops."
Alexander dedicated himself to reading as much research as he could find and began debating the topic online, building a small community. The paper became a business plan and, after a year, a path to his life in the countryside.
In the meantime, Alexander met his wife and partner, Patrícia Creuz. She had spent 20 years abroad and, back in Brazil, was working in the hotel business in Florianópolis, capital of Santa Catarina. The promise of a quieter and nature-connected life also seduced Patrícia, who embarked on the idea of becoming a farmer. "We are so happy," says Alexander. "I have no regrets! If we could and if we knew how good it would be, we would have made this change much sooner."
Alexander was one of the founders and the first president of the Brazilian Association of Hop Producers (APROLÚPULO).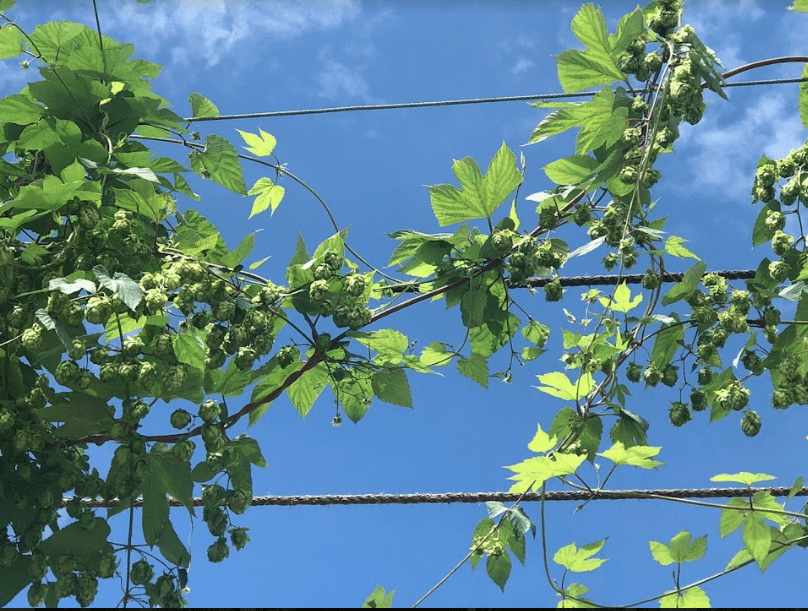 Research
In 2020, Brazil reached a total of 1,383 breweries registered in the Ministry of Agriculture, Livestock, and Supply (MAPA), an increase of 14.4% compared to 2019. In the same year, the country imported 3,243 thousand tons of hops, an equivalent of US$ 57 million.
As a sign of the local interest, the area destined for the planting of hops in the country increased by 110% compared to the previous year, reaching 42 hectares and 24 tons of hops produced, according to a survey by APROLÚPULO.
Ambev, the largest brewer in the country, has teamed up with Silver Hops agtech (a startup focused on agribusiness) to develop a Brazilian hop that is better adapted to the country's climate, soil, and light incidence.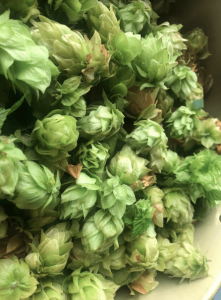 The agtech carries out several technological innovation tests at Fazenda Pratinha, a farm in Lages, Santa Catarina. The property has been turned into a hop innovation lab, with automated irrigation processes, programmed drone monitoring, precise fertigation, and special lighting commanded by an app. Fazenda Pratinha uses about 1.5 hectare for the cultivation of nine hop varieties on an experimental basis, and another 3.5 hectares are reserved for future expansion.
Their goal is to dismiss the idea that, since the main commercial hop (Humulus lupulus) originates from the temperate regions in the Northern Hemisphere, the vine would not adapt to life in the tropics. In fact, that has already been proved wrong.
Research from the University of São Paulo (USP) has found that the Chinook and Cascade species adapted quite well in Brazil and that local farmers can produce "a hop as good as the ones imported."
Made in Brazil
The state of Santa Catarina concentrates a considerable part of producers and is the land of origin of the first 100% Brazilian beer. In July 2021, the Lohn Bier brewery launched Toda Nossa ("All Ours," in free translation), a "Brazilian pale ale," with 100% national hops, barley, and yeast, specifically from Santa Catarina.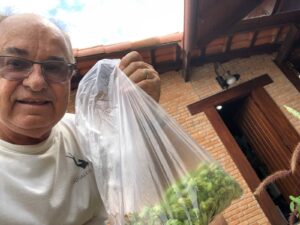 Micro producers also surf the wave of national hops and craft beer. This is the case of systems analyst Luiz Cláudio Pimenta, who has been a master brewer for nine years. Pimenta used his backyard in Brasília, Brazil's capital, to explore his passion for beer. "I have a vast open area and I planted hops next to the fence with my neighbor," tells him. "As I don't have that many vines, the flowers I pick, I mix with purchased pallets and prepare my beers," he adds.
In an artisanal way, he has produced many different beers, distributed among family and friends as a hobby. He now shares his passion for tutorials posted online.