Brazilian agribusiness continues on a positive growth trend. In October 2022, exports hit US$ 14.3 billion, representing a 61.3% increase compared to the same period in 2021. Year-to-date, the growth is 33%. These results represent a surplus of US$ 12.8 billion in our agricultural trade balance.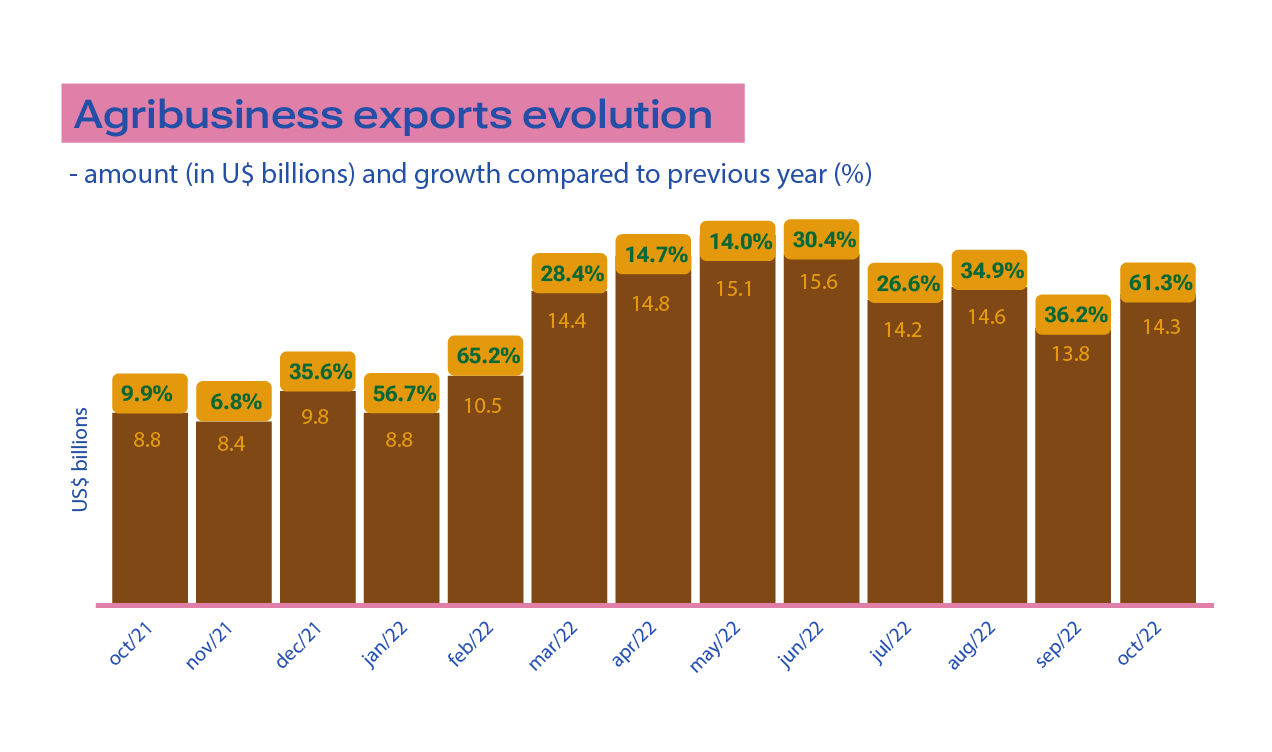 In October, the main product in our agribusiness export line was soybean, with a share of 17.5% and US$ 2.5 billion in sales, which means an increase of 44.8% compared to the same period in 2021. The second most exported product was corn, which showed a 457.9% increase compared to October 2021 and US$ 2 billion worth. Raw sugarcane, fresh beef, and soybean bran complete the list of the most exported products.
Our main export destination in October 2022 was China, with a share of 28.5%, followed by the European Union (16.3%) and the United States (6.7%). Other countries also had remarkable participation: Japan (4.7%), South Korea (2.6%), Vietnam (2.4%), Iran (2.2%), United Arab Emirates (1.9%), Saudi Arabia (1.8%), and Indonesia (1.8%).
Some destination countries showed a significant performance in October 2022 compared to October 2021. Among these, the highlights are Japan (+132.7%), driven by corn exports (an increase of US$ 329.8 million); and Indonesia (+122.3%), driven by raw sugarcane sales (an increase of US$ 118 million).
Trade balance highlight: rice
In the 2021/2022 harvest, the total Brazilian production of rice reached 10.8 million tons, characterizing a reduction of 8.3% in relation to the 2020/2021 harvest, according to information from the National Supply Company (CONAB). In November 2022, Conab forecasts that Brazil's rice production will end the 2022/2023 harvest with a decrease of 1.4% in comparison with the previous harvest.
Despite the decrease in production, Brazil's rice exports reached in the year-to-date from January to October 2022 a total of US$ 516 million, the best result in the analyzed period, 2012-2022. This performance is 68.6% higher than that observed in the same period in 2021. In 2022, the three main destinations of the highlighted product exports are Mexico (25% of the total); Senegal (14%); and Venezuela (13%).
The world's main producers of rice are Asian countries, such as China, India, Bangladesh, and Indonesia. Among them, the main world exporter is India, with exports estimated at over 20 million tons per year. In comparison, Brazil exports close to 1 million tons a year. Yet, Brazil occupies a relevant position in the production of rice, corresponding to the tenth largest producer in the world, according to the FAO report.