The Brazilian Agriculture and Livestock Confederation (CNA) participated in the Seminar on Food and Livestock China-Brazil, in Rio de Janeiro, on Friday (14). Pedro Pereira, CNA's International Relations Advisor was one of the speakers. He presented the commercial relations of the Brazilian agricultural sector with China, its strengths and challenges.
"Despite the many opportunities to strengthen trade relations with China, we have some challenges that must be overcome in order to move forward, mainly seeking greater agility and transparency in the negotiation of certificates for the importation of Brazilian products. But we believe this is a good moment in bilateral relations and that soon we will see more trade of goods such as fruits and dairy," said Mr. Pereira.
Pedro Pereira speaking at the Seminar on Food and Livestock China-Brazil | Photo by Sociedade Nacional de Agricultura – SNA (14/06/2019)
The event was promoted by the General Consulate of the People's Republic of China in Rio de Janeiro, the National Agricultural Society (SNA), China Chamber of Commerce for Import and Export of Foodstuffs, Native Produce & Animal By-Products (CFNA) and China Trade Center.
Mario Wang, director of China Trade Center, emphasized the importance of this event, noting that since 2009 China is Brazil's largest trading partner. "This is the first event between China and Brazil that we organize in Brazil. At the end of this year, taking advantage of the big BRICS event, I believe we can take the opportunity to promote another dialogue. It is good to strengthen our relationships in agribusiness. Agribusiness products have always been very important in this trade," said Mr. Wang.
Mr. Pereira strongly agrees. "The Chinese are already great partners, but only through dialogue can we make better use of the new opportunities that arise," he said. "Both countries have a lot to gain from this closer approach. In addition to importers of Brazilian products, the Chinese have advanced technologies for various agricultural sectors, with emphasis on swine farming and aquaculture, which can be exported."
During his presentation, Ji Hong, from the Department of Commerce of Guizhou Province, presented her State as a major agricultural producer of pepper, medicinal plants, teas and Moutai, a traditional Chinese alcoholic beverage. "We are interested in exporting these products and Brazil can be a partner," she said.
Ji Hong speaking at the Seminar | Photo by CNA (14/06/2019)
In addition to representatives from the Government of Rio de Janeiro, the state of Minas Gerais was also represented in the Seminar. According to the representative of the Secretariat for the Promotion of Investments and Productive Chains of Minas Gerais, Juliano Alves Pinto, the state intends to be a major food supplier to China and intensify the exchange of technologies for the sector.
Rong Weidong, president of CFNA, said he wants to discover new business opportunities in Brazil, in addition to the traditional sectors that are now part of the trade.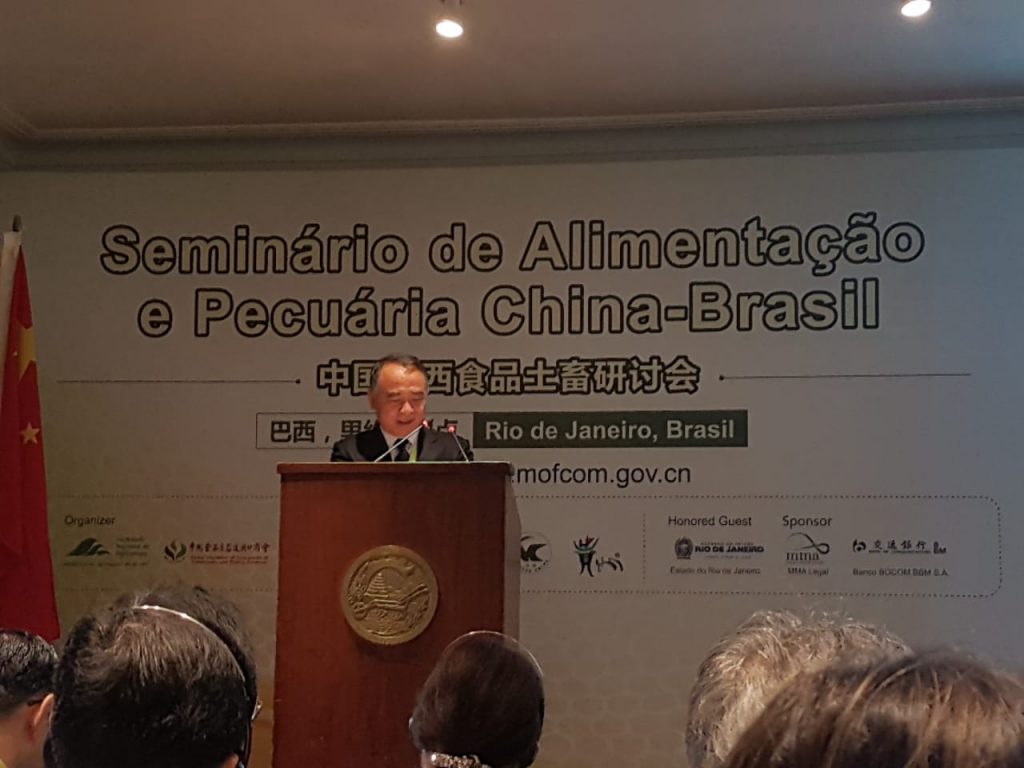 Rong Weidong speaking at the Seminar | Photo by CNA (14/06/2019)
In the afternoon, representatives of MMA Advogados and Banco BOCOM BBM presented the investment scenario, highlighting the area of energy, land leasing for cultivation, storage and financial services.
Pedro Pereira also participated in a round-table discussion about meat trade, along with Yang Shui of Jiangsu Amiya Investment and Tatiana Cunha Redonda of Tag Force Agricultural and Livestock Advisory Service.