Brazilian Farmers visited China for the first time since the imposing of pandemic restrictions. The trade mission, organized by the Brazilian Confederation of Agriculture and Livestock (CNA), took 12 Brazilian rural companies to Shanghai. The farmers participated in the International Food Exhibition (SIAL), the region's largest food and beverage fair.
In addition to SIAL, the trip included business rounds, seminars, meetings, and technical visits to supermarkets and exhibition centers specialized in foreign products.
The farmers who landed in Asia are part of the Agro.BR Project, aimed to promote Brazilian exports and diversify the country's export portfolio. The goal is to expand the variety of exported food products, opening the market for new players in the international scenario.
Today, China is the main destination for Brazilian agribusiness exports. Even with the physical distancing imposed by the pandemic in recent years, CNA has an office in Shanghai to support Brazilian farmers doing business in China.
SIAL
The 12 Brazilian entrepreneurs in the mission participated in SIAL China 2023, a specialized food and beverage fair considered one of the largest in the sector. Brazilian products were displayed in an area assigned to Agro.BR at the Brazilian stand in the event.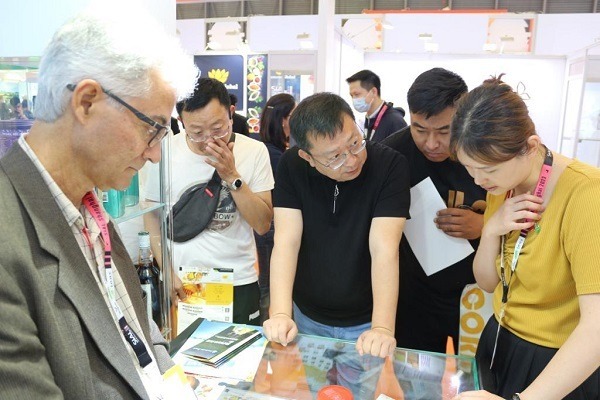 There, the companies had first-hand contact with consumers and potential buyers. "The event gave us incredible experiences, with many opportunities. We are returning home with good deals," said businessman Washington da Silva from Ativa Group.
CNA's International Relations Advisor, Camila Sande, highlights that SIAL is "an important experience for companies to learn the pathways to access a market as large and diverse as the Chinese one. The interest of buyers proved they want our products."
Meetings
The Brazilian representatives used this business trip to meet face-to-face with relevant actors in Brazil-China international trade. The agenda included the National Council for the Promotion of Foreign Trade and Investment (CCPIT) in Shanghai, Shanghai's International Public Relations sector, and the Shanghai Food and Beverage Association.
The focus was on new import opportunities for the Chinese market regarding Brazilian food. It involves negotiations on using Shanghai's free trade zone and partnerships that support determining consumption trends and new sectors that can engage the producers assisted by the Agro.BR Project.
Business rounds
New opportunities also occurred in an exclusive business round between Brazilian farmers and Chinese buyers. In Shanghai, the event organized by CNA resulted in 50 commercial meetings for business prospection.
"The people we talked to understood our product and knew what they wanted. From this, we learned how we must improve, what we need to change, and the competitive advantages we have for Brazilian products," says Nívia Alcici, owner of Essenciale, a company that produces honey and propolis-based items.