In Pardinho, in the countryside of São Paulo, the economist and rural producer Daniella Pelosini owns an award-winning specialty coffee plantation. Her farm produces and sells to local and international buyers. In 2015, she won an Illy award for the best coffee in São Paulo and second-best in Brazil and, since then, started a partnership with the brand.
As a community leader and a coffee enthusiast, Daniella opens her property to courses and lectures promoted by the National Rural Learning Service (SENAR), destined for small and medium-sized producers.
"If I had to say anything to someone who is starting now, I would say: study and quickly look for a union or an association," says her.
The history of Daniella's farm began when she was only eight years old. Her father, Laerte Pelosini, bought the property and started planting a "little bit of everything." Over time, the farm specialized in dairy cattle until an agronomist friend of Laerte advised the family on investing in coffee. "This friend of my father convinced him to plant the fruit, simply because this was once a coffee region that ended up losing a large area to sugarcane and eucalyptus," remembers Daniella.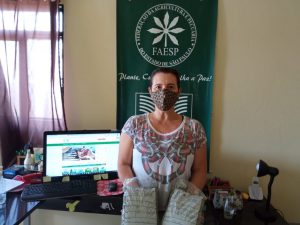 Today, the farm has a structure of approximately 54 hectares of coffee, an equivalent to approximately 200 thousand coffee trees.
The coordinator of the Pardinho Rural Union, Luciane Correia, says she feels great admiration for Daniella and for the community work she does. "If we had half a dozen producers like her, we would certainly be a powerhouse. She 'wears the shirt,' defends the coffee and the region, opens up her farm for the courses and we use it at no cost. In other words, she wants the entire surrounding community to evolve."
Specialty
Like Daniella, many producers have been paying extra attention to specialty coffees. The state of São Paulo, one of the largest producing markets, had its economic and technological development closely linked to this fruit production.
According to Ademar Pereira, president of the Sectorial Chamber of Coffee and the Rural Union of Caconde, "the coffee of the state of São Paulo has conquered the national market and, mainly, the international one, with a great demand for specialty coffees."
The Sensory Evaluation Methodology of Specialty Coffee Association (SCA), used worldwide, define as specialty coffee any type of coffee that reaches at least 85 points on the methodology's scoring scale, which goes from 0 to 100 and evaluates the following attributes: fragrance/aroma; uniformity (each cup statistically represents 20% of the evaluated batch); absence of defects (sweetness, flavor, acidity, body, finishing, and harmony); and final concept (general impression on the coffee, attributed by the classifier).
In the state of Espírito Santo, at just 19 years old, Karulina Ribeiro Oggioni produces specialty coffees on her family's property in Mimoso do Sul. As an agricultural technician, she saw in specialty coffee an opportunity to add value to the work developed by her father, Josemar Polati, and her mother, Nilma Oggioni.
"It is an extra range of possibilities to offer customers what they want to consume," summarizes her. "We are constantly improving and our goal is to provide a higher quality product, with higher drinking potential, and to invest in other types of coffee, such as the fermented one that we are already developing."
Diversification
During the 19th and early 20th centuries, coffee was the main export product in the Brazilian economy. Over the years, the country has invested in different varieties and, today, it has a wide diversity of aromas, touches, and flavors that make Brazilian coffee a sensitive experience for the palate.
Edaphoclimatic, cultural, and crop management conditions give Brazil a range of sensory profiles like no other country in the world. The uniqueness of each region is certified by Geographical Indication (GI) seals, which are a delimitation officially instituted, acknowledging producing localities for the quality and tradition of a product.
The states of Espírito Santo, Bahia and Rondônia concentrate the production of the Conilon species, while Arábica is more common in Minas Gerais, Espírito Santo, São Paulo, Bahia, and Paraná.
According to the National Institute of Industrial Property (INPI), Brazilian coffee has 12 Geographical Indications (GI), being four designations of origin (Mantiqueira de Minas, Cerrado Mineiro, Espírito Santo Mountains, and Caparaó) and eight indications of origin (Matas de Minas, Cerrado Mineiro, Campo das Vertentes, Alta Mogiana, Pinhal Region, West Bahia, Norte Pioneiro do Paraná, and Conilon Coffee in Espírito Santo).
Big numbers
Brazilian coffee exports totaled 45.6 million bags in 2020/21, setting a new record. Exports grew 13.3% compared to the previous season and 10.1% over the last historical high – 41,426 million in 2018/19 – according to the Council of Coffee Exporters of Brazil (CECAFÉ).
Brazil is the largest producer and exporter of coffee in the world. According to the National Supply Company (CONAB), in the 2020/2021 harvest, 63.1 million 60-kg bags were produced, 77% of which were Arábica and 23% were Conilon or Robusta. Based on the 2017 Agricultural Census, there are 265 thousand coffee-producing establishments in the country.
Last year alone, 21.2 million bags of beans were consumed internally, a growth of 1.34% compared to 2019, according to data from the Brazilian Coffee Industry Association (ABIC). With this result, Brazil remains the world's second-largest consumer of coffee, behind only the United States.
With information from FAESP/SENAR and CNA.