"It's not because I'm in a wheelchair today that I have to settle down. So, I'm enjoying it while I can." This is the story of strawberry producer Maria das Graças Silva Firme, from Brazlândia, Federal District, in midwestern Brazil.
The paraplegic condition acquired more than 10 years ago, after she had two strokes and a heart attack, was not a limiting factor for Maria to keep working. Each impulse in her wheelchair represents an overcoming, and agricultural work is the greatest incentive. With her husband, Geraldo Firme dos Santos, she grows several food crops, but in the last five years, she has been dedicated to strawberry production. The couple shares the tasks and, together, they support their family.
She takes pictures and notes on cell phone and notebook to monitor the fruits' development and quality. While Maria das Graças is responsible for the strawberries' quality standard, fruit packaging, and property management, Geraldo takes care of farming, planting, and harvesting.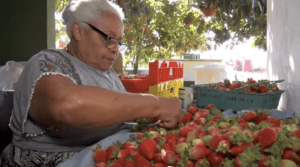 In the last harvest, they planted more than 60 thousand seedlings. With SENAR's technical and administrative support, they were able to increase productivity and turn their farm into a reference for other producers in the area. Every month, SENAR's field technician Francisco Célio visits the farm; he now recalls some adjustments made in the past: "There were some guidelines on water management and especially in choosing the strawberry varieties more suitable for the region."
No limitation takes away Maria's willpower to keep performing the activity every day, and she does it with dedication and care. Everything is done under her watchful oversight to guarantee excellence. "We must deliver to the consumers a healthy, top quality product," she comments.
For the future, Maria thinks about continuous improvements on her farm, along with her family. "It's not because today I'm in a wheelchair that I have to settle down," she says. "Many people who are fully capable don't do what she does, and she does the best she can in life," adds her husband.